WHAT IS A SERUM AND HOW DOES IT WORK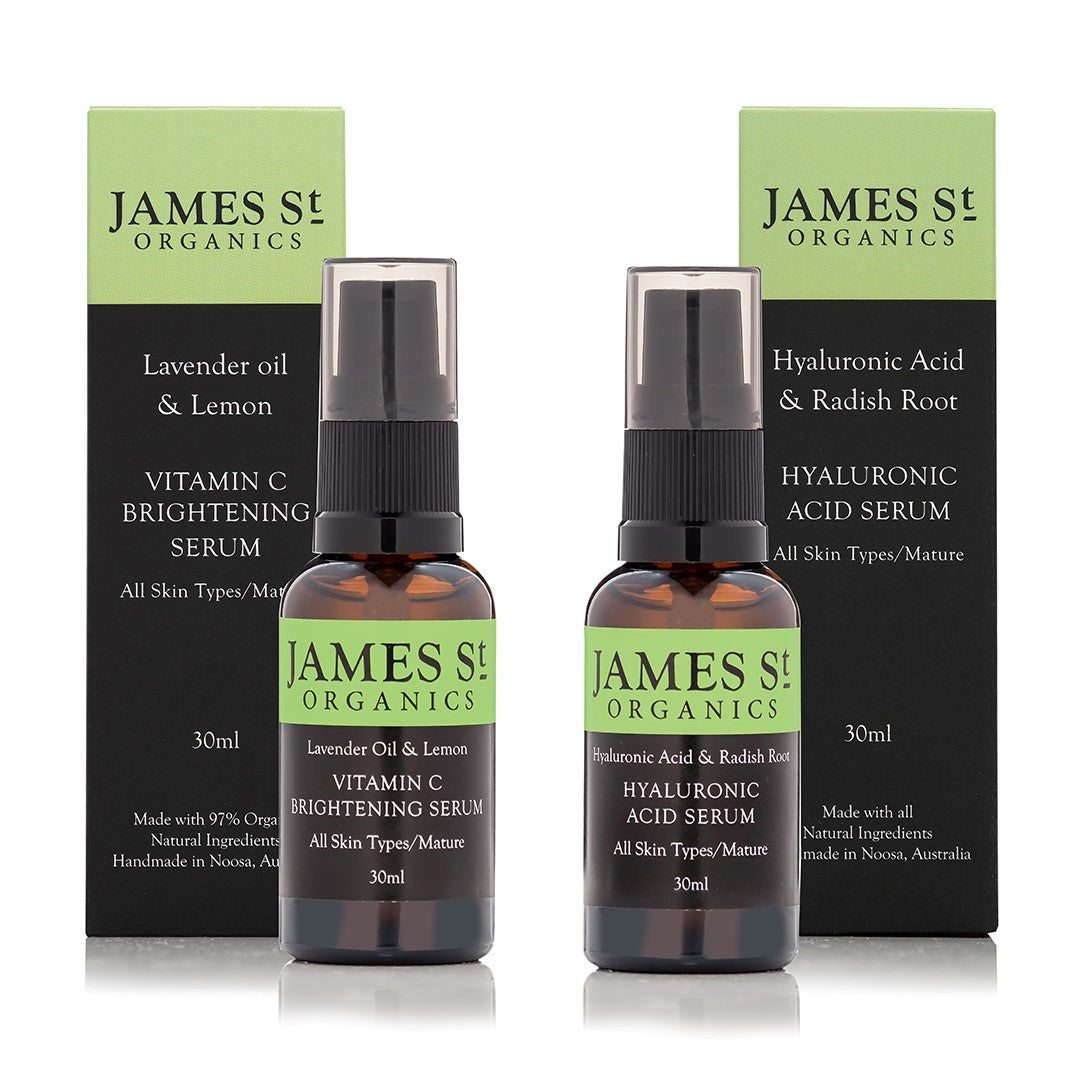 Serums are incredibly hard-working skincare products. They deliver game changing benefits from smoothing fine lines to fading pigmentation, brightening and clearing blemishes. If serum isn't part of your routine, let's talk you through what it is and why it should be!
 What exactly is a serum and what will it do for my skin?
Serums provide a potent hit of active ingredients to your skin - all the good stuff like antioxidants and vitamins - and are mostly designed to target specific concerns.
For example, an anti-ageing serum may contain active ingredients like alpha hydroxy acid to target fine lines and wrinkles.
Serums are water-based formulas with a very light consistency and in addition to active ingredients can contain oils and peptides.
A few examples of common serums:
Hydrating serums -

 Active ingredients often include hyaluronic acid which deeply rehydrates dry, parched skin.

Exfoliating serums -

 Active ingredients often include alpha hydroxy acids (AHAs). These are natural fruit acids act as exfoliators that keep your complexion clear through removing the buildup of dead skin cells.

Antioxidant serums -

 Active ingredients often include vitamin C. A powerful antioxidant, this skincare hero promotes cellular repair, wound healing, fights inflammation, and stimulates collagen production.

Brightening serums - 

Active ingredients often include vitamin E which works to brighten and even out skin tone and texture.
There are all-rounder serums too. The best ones give you some of that potent antioxidant action to help combat early signs of ageing while delivering a boost of hydration and a brighter look.
The serum vs moisturiser showdown, do I need both?
Both serum and moisturiser do great things for your skin, they just do it in different ways.
One of the biggest differences? How they are absorbed by the skin.
Your skin has different layers, the epidermis (outer layer), dermis (middle layer) and hypodermis (deepest layer).
The role of the epidermis is to lock in hydration and keep out bacteria. The surface of the epidermis is pretty much a layer of dead skin cells compared to the deeper layers. These are full of collagen, elastin and pigmentation making cells.
A serum is made up of tiny particles giving it the ability to penetrate far enough to target problems like fine lines and pigmentation which occur in those deeper layers. A serum's mission is to rejuvenate the skin's texture and target damage at the cellular level.
Moisturiser, on the other hand, has larger molecules and can't penetrate as deeply. It goes to work on the outer layer, locking in moisture and nutrients. Serums are more potent too, as they contain a higher dosage of active ingredients, oils and peptides than moisturisers.
Dealing with aged, scarred or sun damaged skin? Adding a serum to your routine, in addition to your moisturiser, will make a big difference.
 How do I use a serum and a moisturiser?
 Step 1: Serum should be the first product you apply after cleansing to maximise absorption. Apply to clean, dry skin.
 Step 2: Give the serum a couple of minutes to sink in then follow up with moisturiser. The moisturiser helps 'seal' the serum in, enhancing its effectiveness and giving you more bang for your skincare buck!
 Random fact! Serum is pronounced serum, not sirum. In case you were wondering!
 Serums we love:
James St Organics Hyaluronic Acid Serum
A wonderful blend of Hyaluronic Acid, Water and Radish Root. This powerful moisture-binding and hydrating product works very effectively to deliver moisture to the skin, giving it a plumping boost for a younger look.
 James St Organic Brightening Serum
A Vitamin C Serum with amazing beauty benefits that create a brighter more youthful and radiant complexion for the skin. This smooth and silky serum contains Desert Lime, along with Kakadu Plum that's known to have the highest levels of vitamins in the world.
---
Leave a comment
Comments will be approved before showing up.